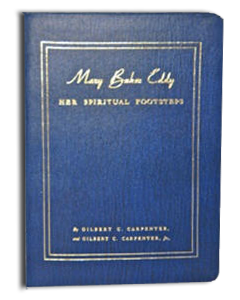 Custom Binding
If you have a favorite book or series of books pertaining to Christian Science or Mary Baker Eddy, Healing Unlimited will bind (or re-bind) your book in beautiful leather (kid, calf, goat, with smooth finish, morocco, etc.), with ribbon markers, headbands, matching hand-laid endpapers, gilt-stamping and more. Prices vary with the book, but generally range from $75 to $185 per book, depending on the amount of work, type of leather, etc. A value for your beautiful collection--the result is exquisite, and worth it!.
Limited Editions
Healing Unlimited also offers the following limited editions. Once the edition has been completed, no further custom copies will be bound of that edition.
| | | | |
| --- | --- | --- | --- |
| Title | Limited Edition of: | Number Available | Price |
|  The Healer (First Edition)# | 12 | 3 | $95 |
|  The Healer (Second Edition)* | 25 | 19 | $95 |
|  The Healer (Set of 1st & 2nd ed.)#* | 12 | 11 | $195 |
#First edition books are bound from a smythe-sewn book block. *Second edition books are bound from a perfectbound book block.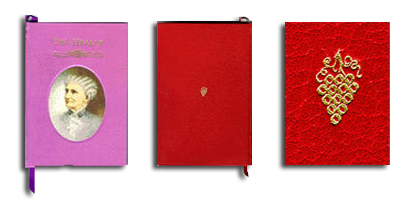 Each custom bound limited edition book is bound in the leather of your choice (from what colors and styles are available at any given time) and you may choose from a selection of
hand-laid endpapers
, ribbon markers, gilt stamping, spine treatment and other custom considerations. The above editions of The Healer all come with the page edges gilt, unless otherwise requested. For the above books, the cover of each book has a full color picture (identical to the one on the cover of the second edition paperback) of Mary Baker Eddy inset into the cover.
Due to the absolutely unique nature of custom work, each book is quite individual. The books in the "Set" mentioned above are carefully matched. The same endpaper is used as well as the same leather; ideally the two books are bound from the same piece of leather (skin).
Normally, your custom made book can be ready for you within 60 days of your order. Due to availability of colors at any given time certain colors may not be available. You are free to select from whatever colors we may have on hand at the time or, if you wish a particular color leather, and/or style, it could take up to a year or more to find exactly what you want. Colors and styles of
endpapers
are quite varied. You can pick your own, or we can select a complementary endpaper for your new book.
Many of the items that go into constructing a book of this nature are unique, and may not be able to be duplicated.
Ordering Information
Shipping/postage costs are USD$5 per order. A 50% deposit is required at the time of ordering, payment of balance is due upon completion of your book. All payments are by funds in US dollars. We do not accept credit cards at this time. All books above are custom bound by David Keyston. If you have any questions please do not hesitate to call or fax David for ordering information and availability at (800) 962-1464, or
email us
.
How to Keep Your Leather Book Happy
With proper care your leather book will provide you with a lifetime of beauty and enjoyment.
Heat and light are two of the worst enemies of fine leather bindings. Avoid exposure to direct sunlight for prolonged periods; it will change the color of the leather and deteriorate the the binding. Do not place the book in a location where it will be subject to heat, such as on a shelf above a heat register, or in front of a window. This will speed the destruction of any leather.
At least once a year it is recommended to treat the leather with a good leather preservative. Apply a small amount of the leather preservative to a clean cotton rag and work into the pores of the leather. Some leather preservatives react badly with gilt embossing. If in doubt, take care to avoid getting it on the gold embossing. Once applied on all leather surfaces (take care not to get it on the picture-if you do just wipe it off completely with a clean rag), set the book up on a table, open, and allow to air dry for 24 hours before putting it back on the shelf.